Photo by Karlena Pickering
Emergency Services
San Juan County Fire District #4 has been serving and caring for Lopez Island's emergency needs since 1963.  During that time they have expanded to include: a full-time fire chief, 3 paramedics with Medical Control Physicians, 39 volunteers of which 26 are firefighters and 13 are EMTs, a transportable Aide Unit, several fire trucks in 4 fire stations throughout the island.
EMS provides 24 hour Advanced  & Basic Life Support emergency treatment and transport of the sick and injured.  In an emergency please call 911 or (360) 378-4141 if you are on a cell phone. For more information about our fire department call 468-2991, or visit our website at www.lopezfire.com.
911
In case of emergencies, call 911 from either a land line or a cell phone. If your cell phone is roaming or you have any problem calling 911, you may call the alternate emergency number: (360) 378-4141.Your call will be routed to the proper agency (EMTs, Fire fighters, Sherriff, etc.). For non-emergencies, please call (360) 378-4151. The San Juan County Sheriff's office runs a 24-hour 911 emergency dispatch service from Friday Harbor.
For non-emergencies you may reach the Lopez Island Fire Protection District No. 4 office at 468-2991.
Read About: Update On Emergency Services and the Lopez Clinic
Airlift Northwest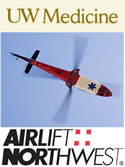 Airlift Northwest provides emergency air medical transport from Lopez Island to mainland emergency services and hospitals. They offer a membership service for an annual fee (currently $79 per year for a family) to cover the cost of transport for any family member. Membership means that Airlift NW will pay for any costs not covered by insurance for any family member transported due to illness or injury. Their service extends the capabilities of our local medical clinic to include the finest hospitals in the Northwest. As an AirCare member, you are covered by Airlift Northwest — with bases located strategically throughout Washington and Southeast Alaska – and by their reciprocal partners. ALNW offers both fixed-wing aircraft as well as helicopter service which lands at the helipad next to the clinic. ALNW is affiliated with UW Medical. A one-week pass is also available to visitors. For more information, go to Airlift Northwest website. NOTE: this service is NOT covered by a membership in Island Air Ambulance.
Island Air Ambulance

San Juan Island EMS and MedEvac is a county agency providing emergency 911 advanced life support rescue and transport to the residents and visitors of the Town of Friday Harbor, San Juan Island, and the outer islands of Brown, Henry, Pearl, Speiden, Johns, and Stuart. See San Juan Island EMS website. NOTE: this service is NOT covered by a membership in Airlift Northwest.
Other Resources
There are a number of other organizations which support the residents of Lopez Island.
Lopez Island Pharmacy
Lopez Island Pharmacy, the island's only pharmacy, has been serving the pharmaceutical needs of Lopez residents since 1985. In 1994 Rick & Marge McCoy moved to Lopez from Colorado and have owned and operated the pharmacy ever since. They state "Daily we are challenged by managed care and the ever-changing health care arena. We have tripled the inventory in the pharmacy and continue to strive to put affordable high quality products on our shelves."
Phone: (360) 468-2616   For more information, visit  www.lopezislandpharmacy.com
Lopez Island Hospice and Home Support
An all volunteer community program that provides compassionate care fo

r homebound and terminally ill Lopez Island residents.
Phone: (360) 468-4446. For more information, visit www.lihhs.org
Lopez Island Senior Services
Senior Services operates a center for senior programs and scheduled meals, and provides other services such as transportation and counseling on senior issues. A full time coordinator, funded by the county, manages senior services. Contact: (360) 468-2421.
Lopez Island Family Resource Center
Offers a variety of programs to support Lopez families and children through mentoring, after school activities, energy assistance, etc. Also hosts the popular Summer Workshops program. Shares space with the Children's Center, next to the Community Center.  (360) 468-4117. For more information, visit www.lifrc.org
Hamlet House Adult Family Home

Lopez Island's only adult family home provides attentive, professional 24-hour care for those needing assistance with the activities of daily life. Our nurturing staff creates a home-life environment where residents feel safe, welcome and valued. (360) 468-3800  Email: hamlethouse@rockisland.com. Website: www.lopezhamlet.com.
Domestic Violence and Sexual Assault Services (DVSAS)

DVSAS of the San Juans is a non-profit agency whose mission is the prevention and elimination of domestic violence and sexual assault through victim services, education, community awareness and cultural and social change. The agency serves people regardless of race, gender, sexual orientation, ethnicity, age or social economic status. For more information, visit www.dvsassanjuans.org
San Juan County Health Department
The Department of Health and Community Services provides a wide array of direct public health services and referral to additional social services available in the community. For more informatino, visit San Juan County website.
Statewide Health Insurance Benefits Advisors (SHIBA)
Under the auspices of the State Insurance Commissioner, SHIBA volunteers provide free, unbiased, and confidential assistance with Medicare and some other health care insurance choices. Mac Langford is the SHIBA representative on Lopez.
For an appointment please call either Mac or the clinic.  And for more information about SHIBA you can go to SHIBA Website.